posted January 27, 2023
Banquet Server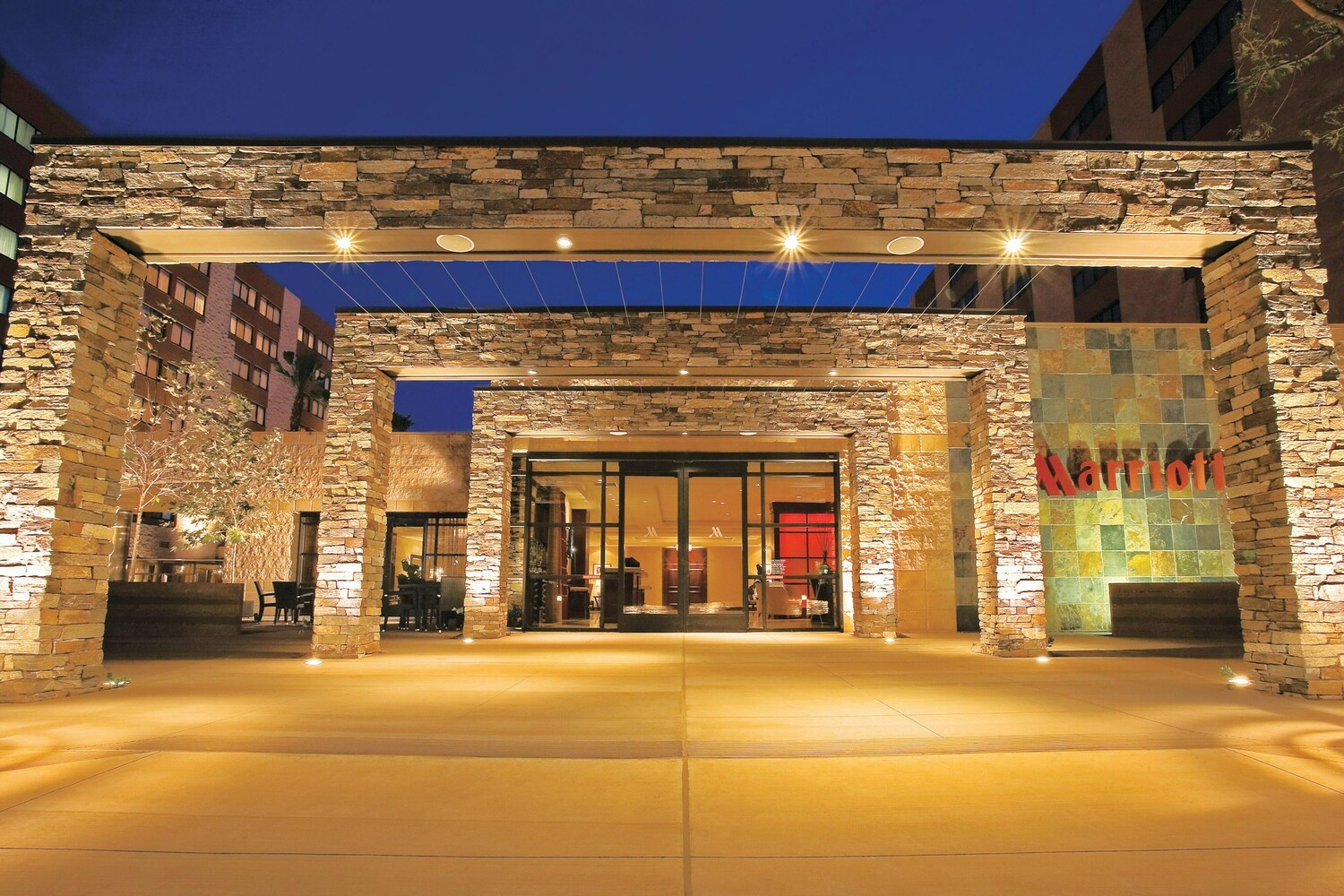 Description
Conveniently located by the Hollywood Burbank Airport, The Los Angeles Marriott Burbank Airport Hotel is near Universal Studios Hollywood, the North Hollywood Arts District, and Burbank Town Center. Offering amazing food and beverage outlets, this property also hosts an array of meetings in Burbank, offering 46,000 square feet of event space. Be part of this team and become one of their stars!
Job Overview: Set up of Banquet Room and serve food and/or beverages in a friendly, courteous and professional manner according to high standards of quality.
Compensation: $15.50/hr +Gratuity
THIS IS A FULL-TIME JOB
Responsibilities and Duties:
Maintains proper and adequate set-up of the bar daily. This includes requisitioning and stocking of all beer, wine, spirits, paper products, straws and stirrers, condiments and produce based on projections from the daily functions sheet
Responsible for maintaining stock, cutting, and storing of all fresh fruit and vegetable garnishes, juices and other perishables daily to ensure product quality.
Greets guests in a courteous and friendly manner, promotes and documents orders for drinks. Mixes, garnishes and presents drinks using standard ingredient recipes and practicing prudent portion control.
Inputs orders into a register at the point of sale and creates a check for each guest including those served by other beverage servers, to maintain accountability of all beverages served.
Receives cash from guests, makes change needed, verifies validity of charges, records charges, and ensures vouchers are properly executed, in order to balance all moneys.
Locks up and stores all beverage, food and other equipment items; deposit cash drops and secure bank.
Performs general cleaning tasks using standard hotel cleaning products as assigned by the supervisor to adhere to health standards.
Perform other duties and responsibilities as requested e.g., special guest requests.
Must adhere to all State, Federal and Corporate liquor regulations pertaining to serving alcoholic beverages to minors and intoxicated guests to ensure all laws are being followed.
Other duties as assigned such as assisting security with disorderly guests.
Specific Job Knowledge and Skills:
The individual must possess the following knowledge, skills and abilities and be able to explain and demonstrate that he or she can perform the essential functions of the job, with or without reasonable accommodation.
Must have basic knowledge of food and beverage preparation and service of various alcoholic beverages.
Basic mathematical skills necessary to operate a cash register, make change, total guest checks, count total bank, prepare cash drops, total all other charges, and understand portion sizes.
Basic English language writing skills necessary for completion of requisitions, balance sheets and vouchers.
Sufficient manual dexterity in hands in order to use a knife to make garnish, pick up glassware and bottles, scoop ice, mix drinks, and reach overhead to retrieve stock.
Ability to read, speak and understand the English language in order to communicate with guests and take orders.
Ability to operate a keyboard and point of sale procedures to pre-check, order and close out a check.
Ability to stand and work in confined spaces for long periods of time.
Other Expectations:
Regular attendance in conformance with the standards, which may be established from time to time, is essential to the successful performance of this position.
Due to the cyclical nature of the hospitality industry, associates may be required to work varying schedules to reflect the business needs of the hotel. This includes nights, weekends and/or holidays.
All employees must maintain a neat, clean and well-groomed appearance (specific standards available).
Employee is always required to take on the responsibility and wear appropriate Personal Protective Equipment (PPE) as determined by position and duties.
Complies with health and safety rules, regulations and procedures to maintain a safe environment.
Working Conditions:
Physical Demands:
The employee must occasionally lift and/or move up to 75 lbs., while performing the duties of this job, the employee is required to stand for long periods of time; frequently walk, use hands and fingers, handle or feel, reach with hands and arms, talk and hear; occasionally sit, climb or balance, stoop, knee, crouch or crawl.
Environmental Conditions:
Inside: Protection from weather conditions but not necessarily from temperature changes. A job is considered "inside" if the worker spends approximately 75 percent or more of the time inside.
Qualifications:
Any combination of education and experience equivalent to graduation from high school or any other combination of education, training or experience that provides the required knowledge, skills and abilities.
Ability to obtain any government required licenses or certifications including alcohol/food service certification. CPR Certification and/or First Aid Training preferred.
Bartending experience required.
Additional language ability preferred.
Los Angeles Marriott Burbank Airport
488 Room Hotel
Experience our Burbank hotel near Universal® and Hollywood
The Los Angeles Marriott Burbank Airport is ready to roll out the red carpet for you, with 4-star hotel amenities and a wonderful location. Whether you're in Burbank for work or to explore Universal Studios®, the Hollywood Walk of Fame and Warner Bros. Studios, we'll make you feel at home, with spacious accommodations and a commitment to friendly service. Savor creative cuisine and delicious drinks at E.D.B., our outdoor restaurant, or enjoy a meal at Daily Grill and a cup of Starbucks® coffee at Media Lounge. Elsewhere at the hotel, you can challenge yourself to a workout at the fitness center, or take a dip in one of our two outdoor pools, located at the East and West Towers. Relax by the fire pit, or snooze in one of our shaded cabanas. With over 45,000 square feet of versatile space, our hotel is one of Burbank's premier destinations for meetings and events. And our complimentary airport shuttle service makes travel stress-free. Plan your visit to the 4-star Los Angeles Marriott Burbank Airport today.
---